Susurrus, like Chervil and Suru, is a modular ceramic chandelier whose components can be assembled into many shapes and sizes. A cascading conical form has been the most popular configuration, but Susurrus can be specified as overlapping curtains, shallow toroids, hollow cubes, hexagonal rings . . . the only limit is your imagination and budget. Susurrus is costed pro rata to the number of bone china bells in each piece. There's no practical limit to how large a Susurrus can be grown. Please call 01242 692455 for details or use the contact form below.
Susurrus lives up to its name by producing delicate chiming tones when activated by gentle motion. Each one of the hundreds of thin bone china bells is unique: subtly altered by organic firing variations; each has a distinctive shape and acoustic tone. The unglazed ceramic ware – handmade in Staffordshire – is surprisingly robust.
Shortly after the first piece was purchased by Liberty's of London, Susurrus debuted in Elle Decoration where it opened an editorial entitled 'Natural Lighting'. A range of bespoke Susurrus chandeliers was specified by Whistles stores countrywide: the flagship St. Christopher's Place store was equipped with two pyramidal luminaires created to infill a pair of 1m square skylights in the changing rooms. 
Susurrus is suitable for Zone III wet use in lit or unlit form. Where Susurrus is required for Zone I or II wet areas, it can be supplied with an appropriately rated enclosed luminaire in the top of the piece.
Purchase and Shipping
We ship worldwide: typically with individual strands dismantled and numbered for re-assembly. Depending on specification, Susurrus is sometimes exported as a shade only – complete with porcelain diffuser, but without flex and pendant. Susurrus is designed around standard electrical components that can simply be fitted by installers using locally certified parts. Therefore UL listing (for instance) is not required. Prices start at approximately £2000 for a conical piece of 500mm diameter and 1800mm length.
Specifier and bulk discounts are available; please enquire for details below. 
Please note that at the present time, Susurrus can only be purchased directly from Item: lighting dealers claiming to offer our products – even using our photography – are selling fakes.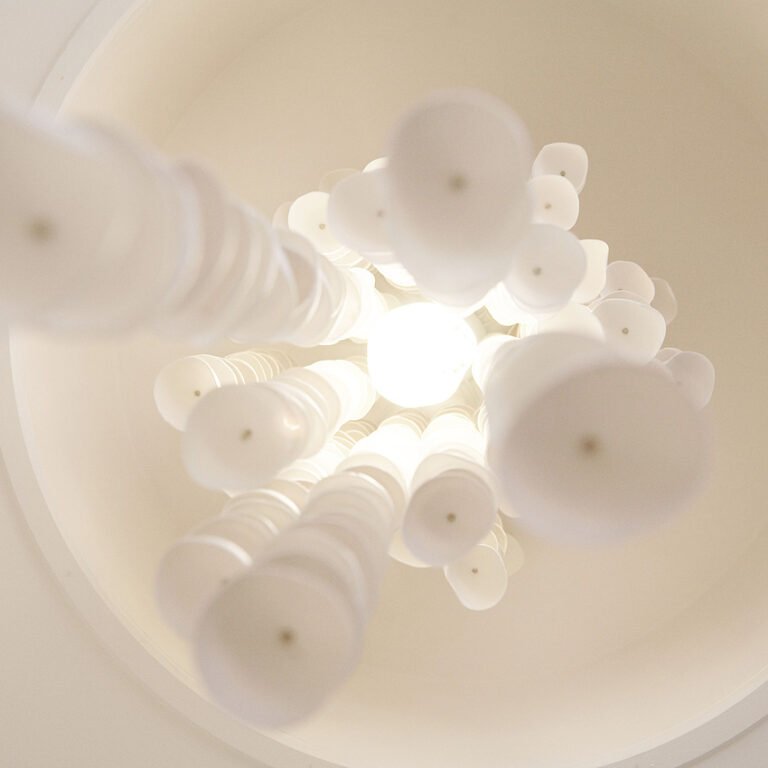 Susurrus was developed with the support of Different by Design