Mini Kou
635mm diameter
180 spokes
1x 250W Halogen
16Kg
Prices from £2300.
View trade
pricelist >
Kou 1
885mm diameter
180 spokes
2x 150W Halogen
24Kg
Kou 2
1085mm diameter
180 spokes
2x 150W Halogen
34Kg
Kou 3
1400mm diameter
265 spokes
2x 150W Halogen
65Kg
Lighting Options
Conventional chandeliers typically feature dozens or even hundreds of luminaires requiring kilowatt supplies; Kou's simple, streamlined electrical design consumes as little as 30W, providing major energy and cost savings. Kou is available is residential or commercial configuration:
Residential: Single or twin E26 / E27 base.
Suitable for UK, EU and US markets running on 110V or 240V, halogen bulbs are commonly available, relatively inexpensive, and more efficient than tungsten incandescents. Bulb life is typically 2500 hours, and the lamp burns warm/yellow. No ballast is required, and dimmable (rheostat) installation is possible with electronic control units. By default, all but the smallest version of Kou ships with a 150W bulb. Where high outputs are not required, it's increasingly desirable to specify a low-energy LED luminaire. Please note that supplied LED bulbs are not dimmable by default. If you wish to dim an LED-lit Kou, please notify us at the time of ordering.
Bulb Characteristics
Wattage/Type
Brightness
Colour Temp.
Typical Lamp Life
Replacement Bulb Cost
1x 150W Halogen
2900 lumens
3200K
2500 hours
£8
1x 250W Halogen
4200 lumens
3200K
2500 hours
£10
2x 250W Halogen
c.8000 lumens
3200K
2500 hours per bulb
£20
1x 10W LED
800 lumens
2700-3000K
25,000 hours
£10
1x 25W LED
1800 lumens
2700-3000K
25,000 hours
£20
Commercial: G12 metal halide capsule lamp with ballast (£175 surcharge)
HID (High Intensity Discharge) metal halide capsule lamps offer a number of strengths relative to halogen lamps that make them ideally suited to commercial applications where the chandelier remains lit continuously for prolonged periods. The typical bulb life of 10,000 hours ensures that maintenance is minimised: a particular bonus if the chandelier is inaccessibly located. Efficiently burning HID lamps reduce energy consumption and increase output dramatically. Please be aware than HID lamps cannot be restruck instantly. If the power supply is interrupted, the bulb will take several minutes to cycle up to full output. For this reason they are not suitable for applications where the chandelier will be frequently switched on and off.
Metal Halide (High Intensity Discharge) Capsule Lamp Characteristics
Wattage
Brightness
Colour Temperature
Typical Lamp Life
Replacement Bulb Cost
70W
4,000 lumens
3000 / 4000K
10,000
£20
150W
9,000 lumens
3000 / 4000K
10,000
£25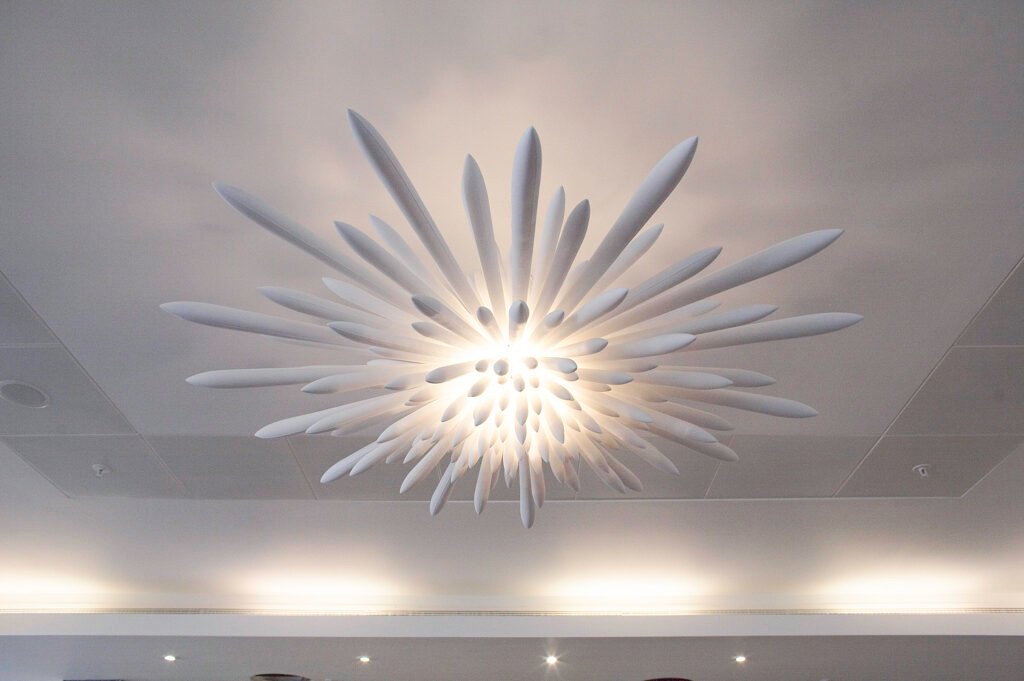 Installation & Assembly Options
Just like Kou, every ceiling is different, too. For new installations, we supply fitting kits suitable for attachment to timber, concrete or steel joists. We are also happy to work with existing structural ceiling fixings – for instance, where a chandelier hung previously – and usually make no extra charge to fabricate a mounting system appropriate to extant fixings. It is imperative that the ceiling hooks / eyes are rated to carry at least twice the chandelier's weight.
The ceiling rose can be supplied in any colour to match existing lighting and decor, or can be delivered in primer for on-site finishing. The fabric-braided electrical flex can also be supplied in a range of colours and, for a small extra charge, the steel cables can be plastic coated in a variety of finishes.
We have a number of recommended installers who travel across the world if you require a fitting service, and are also available to assemble chandeliers in person on site. Please call 01242 692455 for details.
The DIY Option
For customers located too far from England for designer-installation to be feasible, we are pleased to make Kou available in kit form. Assembly is actually very straightforward and takes less than a day. Everything required to dress your own Kou is provided: high quality braided fabric electrical cable, steel armature, internal fixings, ceiling fixing, and a complete set of spokes, plus spares. Because Kou is essentially an overgrown lampshade, it can be fitted around, or in place of, a standard pendant light fitting, minimising electrical complications. Full instructions are provided. Call Mark on 01242 692455 or use the enquiry form below.
Maintenance
Properly fired bone china is stronger than it looks, but it will fracture or break if struck with sufficient force. The tip of the spoke in particular is thickly cast and surprisingly robust, but a sudden blow could damage the mount and compromise its fixing to the armature. Replacement spokes are available if this happens. However, unless physically battered, the ceramic components will last for millennia.
Kou derives its organic textural finish and soft diffusion characteristics from unglazed ceramic's unique properties. Unlike glazed ware, though, it can mark if touched. Fortunately, cleaning is easy, but must be done carefully so as not to stress individual spokes. Surface blemishes can be removed with a sponge scourer (or white sandpaper if ingrained) and a damp, lint-free cloth. The ceramic components are even dishwasher safe.
Kou comes with a free cleaning kit including a long handled white feather duster, a fine scourer and a lint-free cloth.
FAQs
How do you replace the bulb?
The bulb assembly hangs independently in the centre of the armature. To replace the bulb, simply lift the cable out, fit the new bulb(s) and lower it back.
How much does shipping cost?
Shipping in unassembled form to the UK and to EuroStar-connected countries is most economically handled by road freight. Packing and insured delivery within the UK is £175 door-to-door, or £200–500 within the EU. Similarly insured sea or air freight to America and most other worldwide locations, including the middle East and China is in the region of £450–1000. We are also available for on-site assembly.
Can I get a discount?
Yes. Specifier and multiple quantity discounts are available. Please call for details on 0(044)1242 692455 or use the form below.
Can I borrow one?
Yes. Kou is available for hire for photographic or promotional purposes.

I want to buy. What now?
The lead time is approximately 45 days from receipt of the 50% deposit by PayPal, bank transfer or cheque. The balance is payable on delivery.
TO PLACE AN ORDER, OR MAKE AN ENQUIRY, PLEASE USE THE FORM BELOW
Please also read the terms and conditions before ordering.
Installation instructions and schematic diagrams are now available,
as well as assembly instructions for buyers wanting to dress their own Kou chandelier.